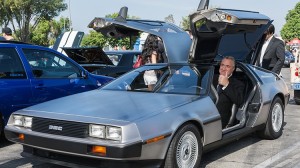 Treasurer Joe Hockey has come under fire from the scientific community for encouraging young people to create temporal paradoxes.
This follows Hockey's comments on 9 June when he stated that, "The starting point for first home buyers is to get a good job that pays good money."
When asked how such a plan fit in with other variables, such as the shrinking of Australia's manufacturing industry, the awarding of lucrative government contracts to overseas companies, the rising cost of tertiary education and the lack of affordable and available housing, Mr Hockey stated that a university education was vital if young people wanted a job that paid enough money to provide them with opportunities.
He then outlined a scenario in which a qualified young person would find a high-paying job, buy an expensive house, then go back in time to lend themselves the money to get a good education.
When members of the press suggested that such a plan was either "dangerous", "impractical" or "pure fiction", he dismissed them as Labor nay-sayers.
"This government is focused on real solutions to real problems. Leave it to a desperate Opposition to tear down the walls of rational thinking with their negativity."
"How else are young people going to get ahead if they don't help themselves?"
Mr Hockey later shifted gear, telling a Sydney media conference that any negativity towards the housing market was unfounded, insisting that if housing wasn't affordable, no-one would be buying it.
He likened the situation to the fictional food shortages in third world countries such as Ethiopia.
"I know for a fact that there are at least three overweight people in Ethiopia; members of the President's family, I believe. If there was a food shortage, how could there be fat people? It simply doesn't make sense."
"Once again, you've got the bleeding heart Left describing situations that simply don't exist."
"When I'm sitting out on the terrace of one of my luxury properties, I don't see a housing shortage. When I call my driver to pick me up and drive me to work, I don't see any problems with road funding or petrol prices. And when the Parliament House restaurant staff bring me my subsidised food, I don't see any problem with the cost of living. It's all made up. These problems simply do not exist."
"In fact, I believe the reason why they don't exist is that in the future, this Liberal government has solved all of Australia's problems, and they have sent Tony Abbott back in time to clean up this country, to allow us to live in that perfect future even sooner."
"This is what allows him to make all the right decisions, even when no-one else understands why he's making them, as has been the case so often recently."
"Just wait 'til you see the real effect defunding education and health is going to have."
"Baby, it'll blow your mind."