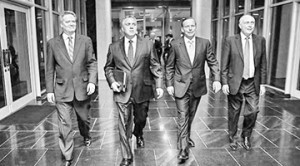 Here we see Mathias Cormann, Joe Hockey, Tony Abbott and Warren Truss, the members of the Expenditure Review Committee who will meet in mid November to decide the ABC's fate.
What's worrying about this photo is that all four are already well on the way towards turning into moustache-twirling silent movie villains. It's no longer possible to take a colour photograph of them when they're in the same room together. The expressions of deranged mirth are already forming. And sure, they're all clean-shaven now but give it a few days…
Every year, hundreds of corporate high-flyers, mid-level managers and local council supervisors succumb to Silent Movie Villain Syndrome. The only cure is to make them aware of the bad things they're doing and make them realise that they have a choice: they don't have to be evil.
These men need your understanding. If you should come across one of them tying a helpless damsel to a train track, or threatening to cut the funding of our trusted public broadcast network, don't just pretend you didn't see it: stop and tell them that you care.
With your help, there is a way back.